Aloha is rooted in two words which describe that greeting: alo, being in the presence of; and ha, breath of life; the life force. Thus, aloha means " in the presence of breath, our life force."
I feel aloha in my relationships with my family, nature, challenges lost and won, and conscious movement.
Mana is a foundation of the Polynesian worldview, a spiritual quality with a supernatural origin and a sacred, impersonal force. To have mana means to have the ability to perform in any GIVEN situation.
Mother nature is a stern and loving teacher; and the cycle of life affords us the opportunity to come into the union or flow of it all: or resist it. There's always choice! The only thing I know for sure is that you are strong enough to hold it all. When that's realized; that's mana.
I had started yoga as a supplemental workout to lifting weights and circuit training. It was just supposed to be a change of pace workout to help with my flexibility and injury prevention. It very quickly escalated into something very much more. I soon found myself on my yoga mat way more often than at my gym.
The connection of breathe and movement was something that I had never experienced before and the moving meditation that yoga is has become a staple in my life. It keeps me centered and helps keep all the negativity that can be encountered in the world from sticking to you and bringing you down.
My Journey to yoga began 40 years ago, when I met my first yoga teacher, Dr. Vjendra Pratap. Learning that yoga is a journey to the self, a realization that we are fantastic as he would always tell us. My passion and my joy come from seeing the light in others, and sharing the practice of yoga with others. I'm always delighted to meet others on this life changing path, seeing the light in each and everyone.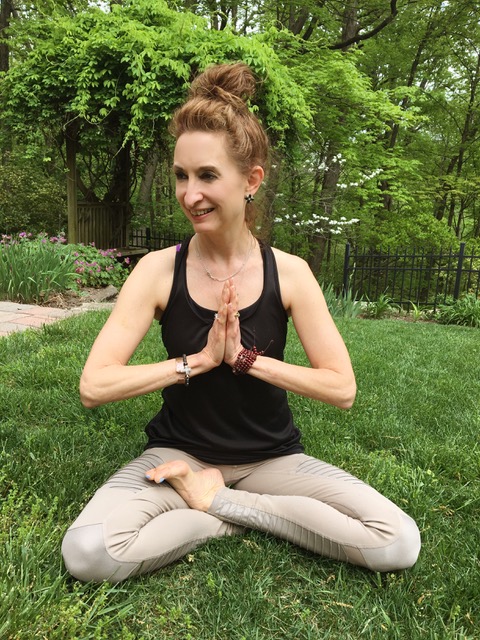 I started practicing yoga 13 years ago when I was pregnant with my second daughter, Natalie. Yoga was the one thing I could do that not only made me feel good but also allowed me to get a little exercise in. After my daughter was born I continued with yoga – trying different types but ending up really loving heated yoga where my muscles felt more open.

My teaching journey started in May of 2015. I wanted a deeper understanding of yoga, so I decided to obtain the 200 hour teacher training, but I honestly didn't plan to teach. However, a few opportunities presented themselves and I quickly discovered how much she loved to teach. It's such a pleasure seeing people progress through their practice really discovering the full benefits of yoga.

There is definitely a greater force out there leading us on our path of destiny and often you find that the journey is completely different than what you expected!
After being told for years by numerous people that I should try yoga, Aloha opened near my home and I took it as a sign to take the plunge. My first class was truly a revelation; I knew this was a lifelong love affair from the very start.
What began as a way to exercise and relax quickly became something much deeper. Yoga has become second nature to me; I have come to understand that it isn't just something that you do in a studio. It's something you carry inside of you every day of your life and everywhere you go. It connects my deep love of nature, my spiritual beliefs, my mind and my body in a way I never anticipated.
When the chance to become a teacher came up, I knew deep down I had to do it. Yoga is a gift I feel compelled to share and I am so grateful to have the chance.

I am a Physical Therapist who loves traveling, good food, wine, my dog, and of course yoga! As a PT, I was first drawn to yoga for its physical benefits. I loved the idea of a physical practice in which the goal is to bring balance to the body with strength and flexibility. As my yoga practice grew, I found that there is so much more to yoga than a physical asana practice! I decided I wanted to learn more about this ancient art, and in the Winter of 2015 I traveled to the jungles of Costa Rica to complete my first yoga teacher training at Marianne Wells Yoga School.
I never imagined that yoga would help with my mental and emotional health as much as my physical health, and that it could nourish my soul as well as my body. I am always a yoga student first, and am currently working on my advanced teacher certification through World Peace Yoga. I continue to love to practice and teach all aspects of yoga, and hope to share the peace and happiness that I have found on my yoga journey.